Welcome to Little Blessings from the Heart!

Latest Store News
2021 Desk Calendar with handcrafted wooden stand
Each of the twelve 5X7 cards comes with a Little Blessings From the Heart artwork appropriate for each month. The 13th page shows a thumbnail of all pictures used in making the calendar. The 13 cards come with a handcrafted wood stand to easily display your calendar.
Now reduced to $10.50, that's 25$ off!
Custom Delivery!
Choose a card from our collection, tell us what greeting you'd like added, provide the recipient's name and address, your name and address -- and we mail the card FOR YOU! As always, when you send a card from Little Blessings From The Heart you're not just sending a card, you're sending someone a lasting gift.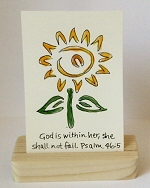 Weekly Bible Verse Card Set
is a set of 52 high-quality Scripture Verse cards - one for each week of the year! The 4.5 X 3 cards feature beautiful sayings from the Bible. Each set also includes a wood holder to display your card. The verses used all came from the KJV. Cost for the Weekly Bible Verse Card set with wood card holder is $18. Get the optional handcrafted Card Keeper for $15 - save $3 if you order both now!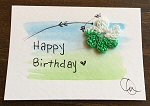 SIMPLE SAYINGS ORIGINALS
- ONE OF A KIND CUSTOM CARDS!
Something new from Little Blessings From the Heart…..Simple Sayings. Each card comes with an adornment and a Simple Saying i.e. Blessings, Thankful, Grateful etc. You will receive an original card. No duplicates, no reprints. The cards will be painted on 140 lb cold press, acid free water color paper. They are the same size as the original Little Blessings cards, 3.5" X 4 7/8 (painted portion measures 3.5" X 2.5"). Each comes with a pocket magnet that allows you to remove the artwork from the card and insert it into the magnet, giving you a lasting keepsake. Now only $4.50 each!
FREE CUSTOMIZATION!
Personalization is ALWAYS free for any card, just include it in the notes at checkout. Email me if you have already placed your order, referencing your name and order number. Examples: Congratulations, Happy Anniversary, Get Well Soon, Missing You, Welcome New Baby
... whatever you'd like to say, we can put on your personalized card.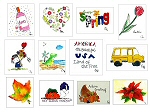 Year of Magnets Vol. 3 now available!
Special offer for our retail customers only
Pack of One Magnet and 12 inserts, a colorful handpainted picture for every month of the year
ONLY $7.95 click here for details
Or SAVE even more - get one for yourself and one for a friend - and order 2 x 12 packs for $12.90, a saving of $3.00
Recommended just for you...

About our Keepsake Cards
Little Blessings cards are created from an original painted watercolor that is printed and inserted into a poly sleeve which is inserted into the frame card. This card, measuring 3.5" x 4 7/8", and is made with acid-free paper and comes with a pocket magnet. The artwork can then be put into the magnetic pocket giving you a keepsake. Cards only require one U.S. stamp for domestic mailings.